Floating Property
As a regional company, Red Shield Insurance Company understands the unique hazards associated with living on the water. We have been writing coverage for floating homes for over 25 years, and while the complexity of the floating home community has changed, our dedication and ability to evaluate each risk on its own merits has remained constant.
Our Marine Broad Form is customized to provide extensive coverages for the unique exposures of floating homes, including flood and "Perils of the Sea.&#8221 To maintain flexibility in our underwriting we've also developed a Marine Basic Form for floating property which does not qualify for the Marine Broad Form program. The Basic form(s) allows us to insure older floating homes, boathouses and rental floating homes which other companies generally will not write.
Marine Broad Form Policy Overview:
Eligible Risks
Owner Occupied Floating Homes 30 years old or newer (1)
Personal Property for Tenants
Homeowners Secondary Residences (theft exclusion applies to contents)
Coverage Includes
Floating Home (2)
Other Structures — 10% of Floating Home limit automatically included
Personal Property — 50% of Floating Home limit automatically included
Sudden and Accidental Direct Physical Loss (3) , including Perils of the Sea and Flood — subject to policy exclusions
Replacement Cost Coverage on Floating Home
Named Perils, actual cash value on personal property coverage
Additional Coverages Includes
Collision Damage by Non-Owned Watercraft to Float — 5%
Debris Removal — 10%
Sue and Labor — 10% (includes towing)
Protect from Imminent Prospective Loss — Sublimit (includes towing)
Trees, Shrubs and Other Plants — 3% of Coverage C
Fire Department Service Charge
Property Removed
Glass
Collapse
Ordinance or Law —10%
Additional Living Expense
Moorage Fees — $5,000
Damage by Marine Mammals — $5,000
Volcanic Debris Removal
Optional Coverages
Replacement Cost for Personal Property
Replacement Cost for Other Structures
Loss of Use
Personal Injury Liability
Additional Residences Rented to Others
Liability Extension for Secondary Residence
Earthquake (California ONLY)
Personal Liability
Up to $1,000,000 limits
$5,000 Medical Payments (to others) included
Special Limits For
Money and Securities
Watercraft and Trailers
Silverware and Jewelry
Antiques, Fine Arts and Memorabilia
Firearms
Computers
Incidental Business Property
Cameras / Video Cameras
Property of Students
Theft of Property from any Motor Vehicle
Business Property away from Floating Home
Higher Limits Available
Marine Basic Form
Written for Floating Homes that do not qualify for the Broad Form Basic Coverages. Available as monoline property coverage or as a package with an optional liability endorsement added. Basic perils are also available for boathouses on a package basis.
For Floating Property Policies through Red Shield Insurance Company® contact your local independent agent.
1 Floating homes over 30 years old can still qualify for Marine Broad Form program if electrical, plumbing and roof have all been updated in the last 30 years.
2 A Marine Survey may be required.
3 Sudden and Accidental Direct Physical Loss including "Perils of the Sea" unless specifically excluded in the policy.
This web page is intended only to be a general description of coverage. Specific coverage, conditions and exclusions are given only in the policy contract itself. Please review the policy for specific details.
Living on Floating Home type Houseboats
by Matt
(Bowie, MD, USA)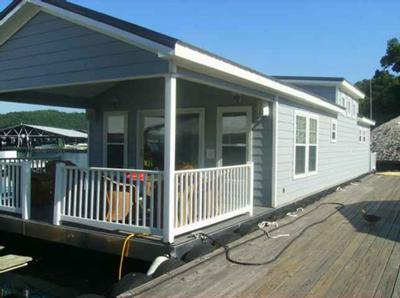 Are they Floating Homes, or Barge Style Houseboats?
I've seen house-like homes built on houseboat pontoon decks. Are there any considerations to building these regarding their ability to actually travel on water? Or is the fact that they look like houses just an aesthetic thing?
Thanks for any help, Matt
Great question Matt, since these Floating Home Houseboats are starting to appear in more and more areas because of the price of waterfront properties.
You will find that many of them are "non-motorized" and strictly stationary style houseboats. When you factor in the cost of an engine(s), transom assembly, steering & throttle controls, fuel tanks, navigation lights etc. many people decide to just use a "tow boat" to move it to it location and use a small boat for personal day use.
Possibly some of our readers will post comments/pictures of other example Floating Home type houseboats in their areas or marinas.
Feel free to use the "Click here to post comments." link found near the bottom of this page.
Thanks again for sharing, IAN from all-about-houseboats
If you're still looking for information, you can try our search function, found at the bottom of the left Nav bar.
Free Bonus Offer
Comments for Living on Floating Home type Houseboats

Floating Home Buyer
by: Anonymous
We have a floating home for sale in Bainbridge, Ga. It is non-motorized & located in the marina there. It is just 15 miles north of the FL line.
Insurance coverage for non navigable houseboats
by: Michelle
Where do you find insurance coverage in the state of Alabama for these types of homes?
We recently purchased a floating home that is moored in lower Alabama, but I can't find an insurance carrier since it doesn't have a motor.
Any help would be appreciated, Michelle.
Floating Home buyer
by: Anonymous
I am looking for a Floating Home in upper part of Florida. I would prefer one on an established site. Why are there none listed for sale? Doesn't anyone want to sell? Its weird.
Looking for information on floating homes and communities
by: Sue
My husband (a general contractor) is interested in building a floating home in Florida to retire aboard in the next few years. Wondering where to get plans; are there books available?
Are there certain areas in central to northern Florida that have floating home communities? Where do we start ?
Thanks for any help you can provide.
Purchase of Floating Home on Norris
by: Anonymous
We own one and have been to all the TVA meetings. It will be years down the road before a determination will be made.
Right now there is a moratorium by the TVA that says "NO NEW HOMES ARE TO BE BUILT".
And the TVA is not even enforcing that ! The TVA is not going to remove these homes, can you imagine the lawsuits that would come about, and most of them would come from the banks that are holding the mortgages.
These houses are bought like you would by a boat, most of the houses already have a TN Number.
There is an insurance agent in Lafollette that will insure these homes. We enjoy going to the lake, as do the rest of our family.
From Proud Owner.
Insurance for a floating home?
by: Anonymous
How does one obtain insurance for one of these floating homes.
Moving a floating home-style houseboat
by: Anonymous
I am looking to purchase a "floating home" on Norris Lake, in East Tennessee. I am new to all of this, so I'm trying to do a quick education before i make a very expensive mistake!!
I love where it is currently shore lined moored, and plan on leaving it there forever, but if I purchase this home, and then next month Tennessee Valley Auth. says "No" more floating homes can stay on the lake, can I pay to have it moved to a piece of land?
I was told no, by the person who showed it to me. I have been doing a little research and came across this site, so I'm hoping someone can help me out asap.
Is there anything else I am missing, I buy and sell homes to flip (not a real estate agent) and I generally have my lawyer write up the contract, or the person buying it has one drawn up by their closing agent, but I'm just freaking out a little, with the contract for a "home" per say, that is looked at as a boat.
Therefore it looks like a very simple bill of sale, like you would do for regular boat, car etc. (but a very expensive boat, car etc.) and I don't have $$$ to just spend, then just loose it, if TVA says so, and then I can't move it?
Escaper
by: Anonymous
On the Tennessee River in NE Alabama, Guntersville Lake North, can I build a non-motorized houseboat? Are there any laws I will break?
Houseboat in the movie
by: Don
I have been trying for some time now to find information on the actual houseboat used in the movie " Houseboat ".
It looks to be a lovely floating victorian style houseboat. There are several scenes in the movie where it appears to be an actual boat, not a stage prop.
I've hit several dead ends and seem to only find out facts on the movie itself. Please help. Thanks, Don
Central Florida ski lakes for houseboats
by: Krys
To the person in KY looking to relocate to a ski lake in central Florida, the time is now before property values and prices go up.
Do your research, make sure lake is spring fed. We had several lakes disappear during droughts and lakefront homes turned into puddle front homes.
Also, make sure your land extends into the actual lake to allow for a boat dock and ability to own and keep a boat in the water on your property. I would not live in a community with restrictions either.
There are several lakes to look at in east Orange County in Orlando, Lake Price, Lake Drawdy or Lake Pickett are clean, deep and spring fed with reasonably priced resales.
Place in NW Florida for houseboats
by: Anonymous
There is a wonderful place to dock your floating home in Apalachicola, Florida with easy walking access to all of the stores and restaurants in town. Plenty of parking and welcomes liveaboards. Rent includes water, sewer and garbage pickup.
Looking to move to central Florida
by: Ky houseboaer
I have been reading about the houseboat owner that is on a private lake in Florida. We are wanting to move our boat from KY to central Florida and are not finding a skiable lake to put it on. Any ideas? Thanks!
Motorized floating islands
by: DougBuchanan.om
From my scant knowledge, for US coastal areas, the advantage is with the motorized "house boat", as opposed to a floating home that needs to be towed. The boat regulations are rumored to be less than the barge regulations because boat owners have more invested, and are less likely to abandon them or make an unsightly "property".
Therefore any motor system, whether used or not, capable of actually propelling and maneuvering the craft, may be an advantage. Bolt-on outboards may be adequate.
The concept of a motorized floating island, that looks like a vegetated island, with a house, may become popular. The cost of floating soil for enough vegetation to look like a real island, is a bit pricey, but there are some innovative ideas afloat. The website FloatingIsland.net presents some related information.
Of course with an insatiable government taxing everything in sight, one might have to pay both property taxes and boat taxes/fees.
To the extent that government does not tax and regulate humans out of a rational life, the new ideas will advance us into an array of benefits from innovating thinking.
Flood Proof Houseboats – floating not flooding.
by: P Talley Floating Homes
I build floating homes and now am obsessed with begging people to understand that if they place them on LAND they will float not FLOOD. This gives a whole new meaning to HOUSEboat doesn't it.
Houseboat Living – floating in Oklahoma
by: Jennifer Pitt
We have lived year round in a floating house in Oklahoma. We love it.
Houseboat utilities for docked or moored boats in central Florida
by: krys
I live on a 100 acre private, spring fed fresh water ski lake. owning approx 5 acres in the lake itself. Most homes on the water have less than 15 feet into the water. I've tried to find out if I am able to place one, two or more houseboats in the water, possibly one per acre with utilities available.
It appears, based on the lack of concrete answers to my questions, that there are not any steadfast rules in place. I have water and power available to an oversized boat dock and would like to talk with someone interested in "investing" in this idea.
Houseboat Cruising – any info on waterways laws?
by: Jason
I am planning to build a houseboat barge. I am wanting to put it in the Mississippi river and use the ICW between New Orleans and Florida and up to New York.
I would like to know if you can "put in" anywhere and also what are the laws on Corps of Engineer Lakes in Texas.
Thanks. Jason
Floating Houseboat Homes
by: Priscilla Talley
I spoke to Ron a few weeks ago. We talked about placing my floating homes on his gorgeous island. Where is your lake? I am currently designing for a customer who might be interested in placing hers down there. Priscilla
Houseboats in Central Florida
by: Krys
Ron, sounds like we are almost neighbors. would like to share ideas with you, as I am ready to pursue putting a houseboat on my lake. Maybe we could help each other with our efforts?!
Krys
Houseboat Living – house boat barge with island dockage
by: Ron
I have a 100 acre island on the St. Johns river in Central Florida and would like to dock a high quality floating home at it to share, use, or to resell as package deal.
Houseboat Community – many boats being bought
by: B. Paratore
Even with the economy the way it is I see many houseboats being bought. In our little community we now have 35 houseboats. It can handle up to 80 in total. I have owned mine now for just over two years.
We live close enough to visit it on weekends. The water is so relaxing and the area is quite incredible. I joke about quitting everything and going and living on the houseboat full time but then I'm reminded I still need to eat, the job stays.
Houseboat Marinas – Venice and Kings Plaza
by: Anonymous
Hello to Susan, there are only a few marinas that allow houseboats, there's the Kings Plaza marina which I'm hoping to be part of soon, and there is also Venice marina which hasn't had good reviews.
Kings Plaza marina is in Brooklyn across from million dollar homes, near the mall, and golf course. The value isn't increasing as of late, but if we can get more houseboats, some decent looking ones at that, and work on customizing the docks, I'm sure it can definetly become a hot commodity. Hope this helps..
Eastern Canadian Lakes – Nova Scotia 1
by: Randy
There are no homes or cottages in SW Nova Scotia that I'm aware of. I would like to start with a small cabin style on a lake ! Nothing big a beginners kind of floating cabin, 12'x12'or 16'x16′.
Something I can easily tow to new spots in the lake.
I'm new to this so any ideas or suggestions good or bad would be appreciated !
regards – Randy.
Senior citizen and houseboat living
by: Anonymous
I am a 75 year lady, have a houseboat (floating home) the only one allowed, I'm grandfathered. in Westport, Wa. tied to the dock surrounded by small commercial fishing boats. and it's the best world ever for me,
Yuma, Az. in winter and Westport, Wa. in summer. it's the feeling of vacation, leisure, and every convenience at my fingertips with a never ending view of sunsets, beautiful yachts coming and going, great neighbors. fresh fish any time I want. beautiful kitchen, cable t.v., phone, washer/dryer, marine U.S. Coast Guard approved flush, shower.
It is better than any nursing home and the relaxed lifestyle, you can't put it in words it's just that good. anyone thinking of doing the houseboat thing, go for it. Marilyn
Reply – Answer
Well Marilyn, I personally wanted to thank you for sharing your thoughts on the retirement houseboat living, from as you say, a senior citizen's point of view. Keep on living the greatest lifestyle around.
IAN from www.all-about-houseboats.com
Houseboat homes in New York
by: Susan
Firstly I appreciate all the comments pertaining to houseboats, great knowledge base. I am looking for a marina in the New York area, anywhere that has house boats. I would welcome any information please. I also need a re-sale market or houseboat manufacturers in the area. Many thanks
Floating mobile home houseboat
by: captbob
I have a floating mobile home houseboat, thats right, a mobilehome, it is a 2000 model fleetwood home. I put merco marine floats under is unbolted the frame and slipped it in the river.
It floated right off the trailer frame and sits perfect, it has been floating 6 months now and i haven't found a problem yet. It did well in the ice this winter, better than the old Stardust Cruiser I used to live on.
Unfortunately the ice ate the hull up on it and the Stardust Cruiser ended up on the bottom any.
Floating Cabin ready to Deliver.'
by: Priscilla Talley
Queen Anne, I was in your area back in October. Captain Don and Janet Hevener who own Dreams In Motion Worldwide boat transport company invited me to join them in the delivery of a houseboat up there.
The Marina owner viewed my brochures and website and is very intrested in marketing my Floating Homes up there. I have several completed floating cabins on the market now and I also custom design and build for individuals.
Priscilla Talley
P Talley Floating Creations
Floating Cabins in B.C.
by: Queen Anne
I am totally in love with this concept. There are float homes here in Victoria, BC, Canada, where I live, but they have become very expensive, and moorage is also expensive.
I'd like to have a small floating cabin somewhere out of a city, sheltered, and cheap. Anyone know about possibilities in my area? (Vancouver Island, B.C. — west coast of Canada).
It would be my Summer Palace. Queen Anne.
Sewage rules depend on body of water
by: Priscilla Talley
Charles, what waterway will you be on? The regulations vary based on the authorities of the area you are "Floating" on.
Houseboat sewage discharge
by: Charles Isbell
What are the Alabama regulations for sewage discharge when you are living on a houseboat?
Floating College Dorm!
by: P Talley Floating Creations
hey krys! I am in the process of doing exactly what you are considering. I have a nephew at The University Of Alabama in Tuscaloosa.
He is paying more for an apartment then it would cost for me to send one of my floating cabins down there. place it on the Blak Warrior River (0nly minutes from campus) and let him use it until he graduates.
I have already gotten permission from The Core Of Engineers Department in Demopolis, AL, since I am certified as a house boat manufacturer with the US Coast Guard.
I feel sure that when he graduates that there will be a huge waiting list of others who will want to lease or buy my floating cabin down there. My only regret is that I didn't design the interior as a "Roll Tide" theme!
lakefront houseboat
by: krys
I own a 2000 sft home on a 100 acre ski lake in Florida. owning 2 acres of dry land where the house was built and 9 acres into the lake.
Rather than rent a college dorm, my son thought of the houseboat idea. He will be able to enjoy the lake, sunsets and his freedom! Building a houseboat structure and utilizing the facilities available from the boat dock will be far less expensive than 4 years of rent!
Since it is my land. in and out of the water. will I still require permits, vessel registration, etc etc to follow through with this plan? It is a private access lake. no public ramps. the only activity/access to the water is by home owners.
Any thoughts/feedback would be greatly appreciated!
Floating home/Houseboat
by: Ben Paratore
Hello all, I own a floating home/houseboat. Its part of a vacation community on the Chattahoochee River near Lake Seminole.
When I first purchased the thing it was difficult getting it registered because "what was it?" Its not a boat because it doesn't have a motor, even though it sits on the water and it's not a house because it sits on the water.
Insurance was a joy trying to get also for the same reason. Well, it all worked out eventually, and of course to the governments advantage because I pay property taxes as though its a house and I have to register it as a boat. Sweet.
But you know, I wouldn't be able to afford water front property any other way. One sunset and you could've charged me a luxury tax as well and I wouldn't of cared. Oh, wait a minute, scratch that.
We own 2 of the floating homes.
by: Floating Vacation Home Rentals . com
We own 2 floating Homes on Norris Lake, in TN. We rent these out for weekends and vacations. These are stick built homes supported by a floating platform consisting of styrofoam blocks that are encased in plastic tubs.
One home is a 1,700 sq.ft. home with 3 bedrooms and 2 full baths. It will sleep 12 adults.
The other is a 2 bedroom 1 bath home that will sleep 8 adults. These homes are anchored to a moor line at one of the marinas.
You need a boat to get to them, but once there you will find city electric, a water purification system, central heat/air, washer/dryer, dishwasher and all the comforts of home.
My highly mobile floating houseboat cottage
by: Trish & CV
We have a "floating houseboat cottage" that is USCG certified that we have owned at the coast for three years. It easily travels at 10-12 knots on the ICW. It is all-fiberglass on a catamaran platform and drafts ONLY 18 inches. It's wonderful in all seasons.
floaters
by: Anonymous
damaged floaters are gonna work good!
Floating cabin Certification
by: P Talley Floating Creations
Yes, if you are on Core Of Engineers Waterways they must be certified by the U.S. Coast Guard as a "Houseboat". even if they are only floating homes, cabins, etc.
Where do you start?
by: Anonymous
Do you have to retain a permit or get permission to build a floating cabin if you own river front property?
Moving your houseboat
by: Ricky Brown
If you are in a hurricane prone area you do not want to count on anyone to move your boat. In my area during a hurricane situation you could not hire a tug at no cost.
The oil field has all boats hired to move their equipment out of harms way. Adding engines is very costly and if the boat was not built for engines it is even less cost effective.
A floating home in Cedar Rapids, Iowa
by: Anonymous
We have a floating home in Cedar Rapids, and during the flood of 2008, we lost about 60 of 137 floating homes due to the flood.
The Iowa DNR claims that they are illegal structures, and they have told us we could rebuild but could never sell them. If they get their way this will happen state wide, then nation wide.
We rebuild ours and make preparations for any future floods, but many won't be rebuilt. These have been here for almost a hundered years, but if the DNR gets their way, they will all be gone for good, Everywhere.
Reply – Answer
Hmmm, interesting piece of information, I was unaware of the DNR's point of view on these. Thanks for sharing it.
IAN from www.all-about-houseboats.com
Houseboat kits
by: Anonymous
I want to build a houseboat as a family project.
Are there houseboat kits available?
eco-friendly
by: Anonymous
I'm writing a speech about this, and I'm looking for a little more information about how they are so eco-friendly. I've read that they are but need a few more bullet points on that subject. Anyone?
Fellows-you are correct!
by: Priscilla Talley
My Floating Cabins ARE houseboats.
I am certified by the U.S. Coast guard as a Houseboat manufacturer. I build to Marine code and my "Floaters" do "Have all the stuff needed to be a boat". I also have a determination to build them as "Eco Friendly-Green" as possible.
Our waterways would be in serious trouble if anyone could just build something on the water to live on without all the restrictions, regulations and rules that I have been successful in accomplishing.
I have visited some areas where floating homes have just sat for years and it looks like a floating ghetto!
I am not building floating house trailers. I want to design and build unique houseboat-cabins-cottages-homes that enhance our beautiful shorelines!
Smiles from Alabama!
Priscilla Talley
Barge or Houseboat
by: Dan Pedersen
In Europe, a houseboat is a boat that has motor, lights, and all the other stuff needed too be a boat. It also needs too be able to travel over protected waters.
If not, it's a barge. And barges require licenses to stay in harbor for longer periods. The reason is no one wants houses in the harbor.
Taxes on Floating Homes
by: Ricky
Be careful when talking about floating homes, in some areas they are subject to taxes just like a home on land. If you are motorized and a registered vessel with numbers it cannot be taxed as of now.
I do know of one case where they tried to tax a houseboat and the owner went to the DA and they dropped the case.
Floating Cabins & Homes
by: Priscilla Talley
Hello Matt, I am a private builder of Floating Cabins and Homes. I have been in love with the idea for ten years since I saw those in Seattle Washington. I am now so amazed at how popular they have become just in the past two years!
Mine are not "factory mass produced" but built individually. I can float any style cottage, cabin, home that the buyer wishes!
Can also build the All Aluminum High Quality Floatation system that anyone would need to build their own Homemade Houseboat-Home.
Blessings to you all!
Priscilla Talley
Life on a houseboat
by: Gary
I used to live on a "floating home" at Jantzen Beach Moorage in Portland OR almost 25 years ago. Swore I would go back to that lifestyle when I retired. I am now planning on retiring and still have that dream.
It's a very relaxing way of life, and the people are friendlier than the ones living on land. Don't know why but it is just that way. You'll love it. see you down there
Where to find floaters for houseboat?
by: Paul Mooij
I am busy with a non profit project to build a solar houseboat in St. Maarten and we are looking for used or damaged floaters to build this boat.
We are thinking about a boat of perhaps 20 feet. Does somebody have tips to where to find such floaters?